Apparently this time there was nothing special in last night's Whiskey. This time it's happening for real Welcome in Weird West where rules have changed.
Gunslingers & Zombies is an action-adventure strategy game hilariously mixing two beloved pop-culture themes: the Wild West and the undead. Become one of the triggermen facing the zombie apocalypse. Plan your tactics, and bring it to life-fighting turn-based duels. Enjoy the Wild West with a twist in a lightweight, post-apocalypse scenario, where nothing is normal. Face a variety of themed undead such as the mighty Buffalo Zombie! Let those zombies taste your pistols, rifles, canons, or knives, and make sure they'll regret the day they were… erhm… they went undead.
You have a choice, shoot, or get eaten.
Gunslingers and Zombies:
"Go West", they said. "Adventure and easy money await", they said. The problem is the only green things that matter now are trying to eat us alive. A Great Adventure like hell! Zombie Apocalypse hell! Survive in the unique post-apocalypse scenario and help Gang of Gunslingers to not die like Greenhorns.
Shoot first, ask questions later,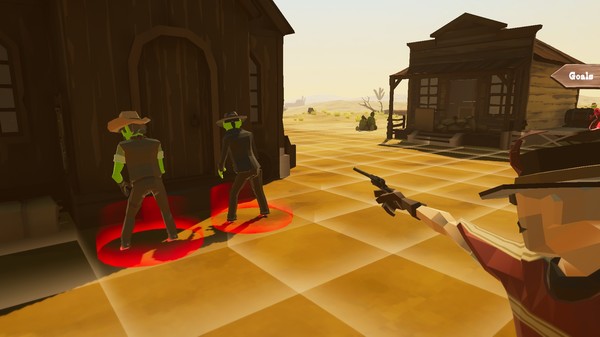 Main Features:
Tactical Turn-based combat – have time to aim, shoot and watch
Weird West World – lightweight post-apocalypse scenario. Let's yeeehaaw those zeds!
Early Access Features:
Guns – pistols, rifles, canons, knives and more;
Zombie – Zombie zombie;
Chapter One – The Great Journey begins!;
Language – Support for 11 languages!
Don't forget to bring Knife to Zombie fight
Game Future:
Zombie West World – explore the beautiful world of weird west, where nothing is "normal";
Engaging story – nothing will be revealed, find it and live it yourself;
Zombie – variety of zombie, beware of Zombie Buffalo!
RPG elements – Special times need specialized people;
Scavenging – look for supplies, ammo, food, medicine;
Lockpicking – not all can be opened just like that;
More Info:
TITLE: Gunslingers & Zombies
GENRE: Action Games, Adventure, Indie, Strategy, Early Access
DEVELOPER: Live Motion Games
PUBLISHER: Gaming Factory S.A.
FRANCHISE: Gaming Factory S.A.
RELEASE DATE: 15 Jan, 2021
File Size: 148 MB
System Requirements
MINIMUM:

OS: Windows XP, Windows Vista, Windows 7, Windows 8, Windows 8.1, Windows 10
Processor: 3 GHz
Memory: 4 GB RAM
Graphics: GTX 660
Storage: 560 MB available space
How To Install?
Download
Extract With Winrar
Play and Enjoy!