Delve deep into the dungeons of Kyvir. Battle against a variety of dangerous enemies and hunt down the Doomsdragon as foretold by prophecy. Kyvir: Rebirth is a single player card game that combines elements of RPG, deck building, and roguelike gameplay. This game features an original dual deck mechanism, hundreds of distinctive items, skills, and cards for you to experiment with. The possibilities are endless, ensuring a unique experience with every adventure.
Dual Deck Combat
Fight exciting enemies with unique characters that each have an assortment of weapons. Each weapon will enable different styles of combat. Navigate the ability to control two decks in battle. There are no fixed paths to victory. Leverage your cards, equipment, skills, and, most importantly, your wit to construct powerful builds for every occasion. And come share your experience with our community.
Class Skills
Learn different skills with different characters on every adventure. However, be mindful of how these skills fit into the rest of your build. As powerful skills require different class cards to cast. Carefully balance your deck with suitable class and utility cards of your choice to complement your playstyle. Unleash your inner strategist in order to construct the perfect build.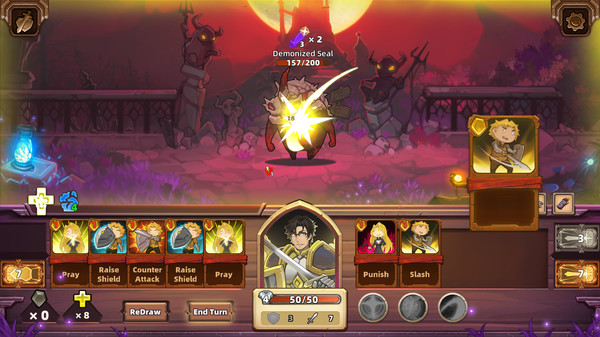 Free-form Deck Building
Is your current deck less than ideal? Want to try new builds? You are free to adjust your decks as you would like anytime out of combat. But remember, you cannot effectively tackle every enemy encounter with a fixed deck. Build smart, build flexible, build to win.
Compelling Equipment System
How many cards can you draw? How many action points can you recover? How much damage will your cards deal? Your equipment determines your various attributes. There is no best gear. Equipment that synergizes with the rest of your build is critical to a successful adventure.
More:
Two playable classes currently available during early access, each with totally different sets of equipment, skills, and cards.
Nine Levels of dungeon exploration.
More than 60 types of random events.
More than 100 class cards and utility cards.
More than 100 different class skills.
More than 180 unique equipment.
More than 60 types of enemies.
Roguelike gameplay with elements of persistent progression.
And more to come as we update the world of Kyvir…
More Info:
TITLE: Kyvir: Rebirth
GENRE: Adventure, Indie, RPG, Strategy, Early Access
DEVELOPER: Dawnblaze Entertainment
PUBLISHER: Dawnblaze Entertainment
RELEASE DATE: 1 Feb, 2021
EARLY ACCESS RELEASE DATE: 1 Feb, 2021
File Size: 325 MB
System Requirements
MINIMUM:
RECOMMENDED:

OS: Windows 7
Processor: Core i3
Memory: 2 GB RAM
Graphics: IGP or better
DirectX: Version 9.0
Storage: 2 GB available space

OS: Windows 10
Processor: Core i5
Memory: 4 GB RAM
Graphics: GTX 1050
DirectX: Version 11
Storage: 10 GB available space
How to Install?
Extract the file using Winrar.
Open "Kyvir – Rebirth" >> "Game" folder.
Then double click on "KyvirRebirth" icon to play the game. Done!